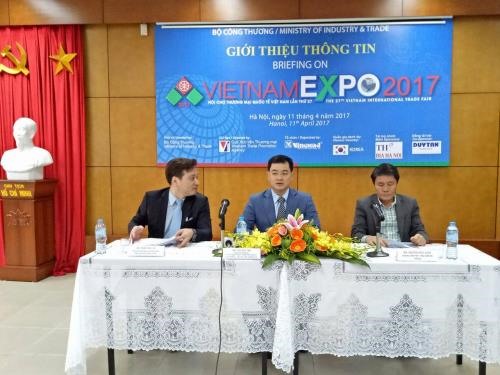 Bùi Huy Sơn, head of the Trade Promotion Department of the Ministry of Industry, and Trade (C) and Park Chul Ho, General Director of the Korea Trade-Investment Promotion Agency (KOTRA) (L), brief the press on April 11 about the upcoming Việt Nam Expo 2017. — VNA Photo
Viet Nam News
HÀ NỘI — The 27th Việt Nam Expo, scheduled to take place April 19-22 in the capital city, assumes added significance given the "special context" in which it is happening, organisers say.
Bùi Huy Sơn, head of the Trade Promotion Department under the Ministry of Industry and Trade, said the event was being held "in the special context of the country actively pushing ahead with international economic integration, hosting the Asia-Pacific Economic Co-operation (APEC) 2017 and celebrating the 25th anniversary of diplomatic relationship with South Korea."
Appropriately, the Việt Nam International Trade Fair 2017 (as the event is also known) would carry the theme "Strengthening Regional and International Economic Links," he noted.
The expo will gather more than 500 exhibitors from over 23 countries and territories, including leading economies from Asia, Africa, South America and Europe.
Some 600 booths will display a diverse range of products including industrial machinery and equipment, construction materials, electronics, information technology, beverages, healthcare products and services.
Việt Nam Expo 2017 has been organised annually for more than two decades. It has become the largest and most significant event for the nation's industry and trade sectors, generating more economic benefits and opportunities for local firms to expand export as well as domestic markets.
Sơn said that the event would contribute to the nation's global integration process.
'Honoured nation'
South Korea, as a "honoured nation" at Việt Nam Expo 2017, would bring in 130 companies taking up 138 display booths, he added.
Among other things, the Korean companies will present electrical and electronic products, cosmetics, smart toys and processed food. These products belong to the category that will have tariffs cut under the Việt Nam-Korea FTA signed in 2015.
Park Chul Ho, General Director of the Korea Trade-Investment Promotion Agency (KOTRA) in Hà Nội, said Việt Nam Expo 2017 would not only be a platform for Korean businesses to sell and introduce their products, but also an opportunity for promoting investment co-operation and technology transfer between enterprises of both countries.
Several activities on the sidelines of the expo, including the Việt Nam Exports Promotion Forum, fact-finding tours to industrial zones, policy consultancy, capacity-building for enterprises in terms of marketing and promotion strategies, will provide added value to participants, organisers said.
Việt Nam Expo 2017 is a collaborative effort involving the Ministry of Trade and Industry, the Việt Nam National Trade Fair and Advertising Company (Vinexad) and other agencies.
It will be held at the Hà Nội International Exhibition Centre, 91 Trần Hưng Đạo, Hoàn Kiếm District, Hà Nội. — VNS
Link gốc: http://vietnamnews.vn/economy/374468/500-exhibitors-to-attend-expo-2017.html#o70f6EHMZ1uT3Y7y.97