VIETNAM EXPO – Step together in Digitized world
With a view to promoting investment and trade cooperation between Vietnam and other countries, the Government of Vietnam has assigned MOIT to host annually this important event. With 30 years of history, VIETNAM EXPO has been proved to be the largest trade fair in Vietnam in terms of attendance and business turnover. The event covers a variety of industries: Agricultural products, Food & Beverage, Machinery & Supporting industries, Digital technology & E-commerce; Electric & Electronics; Home Living, Trade promotion; Logistics & services, etc. Moreover, International pavilions displaying outstanding products & services of each country is also one of the highlights of the show.

Every year, VIETNAM EXPO attracts the interest and participation of trade and investment promotion organizations, domestic and foreign business communities from 40 countries and territories around the world. Business cooperation opportunities, market development goals at the Fair have been concretized by businesses through contracts, investment projects, joint ventures.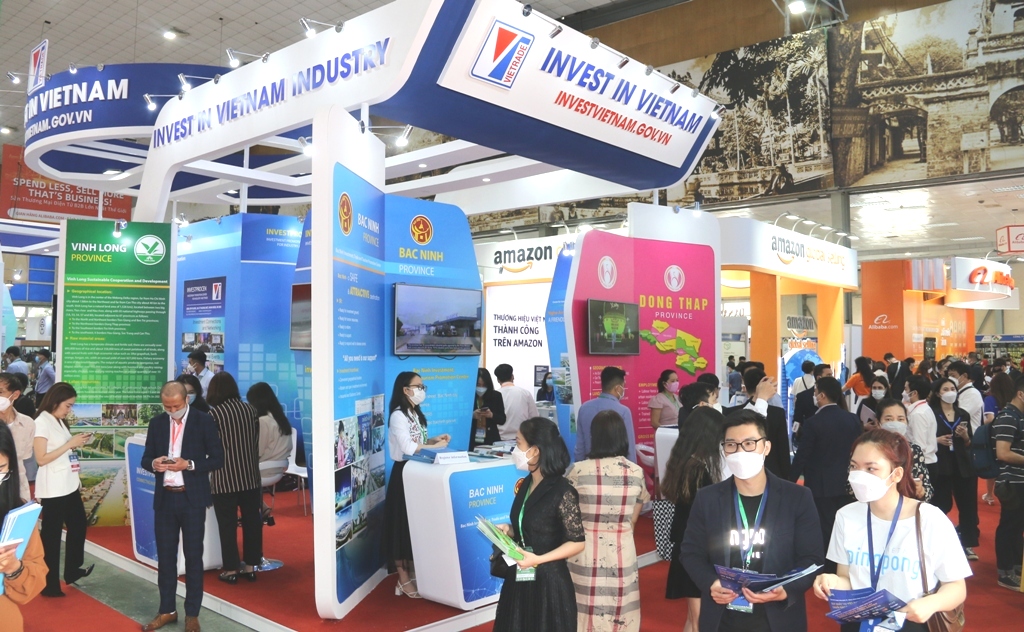 In 2022, 410 enterprises with 380 display booths of enterprises & trade promotion organizations from 16 countries and territories participating in four (04) main industries: Food and Beverage;  Home living; Vietnam Value and Exports; Machinery – Supporting Industries; Digital Solutions & E-commerce;
Vietnam Expo 2022 remained performing the function as business matching as usual for local and foreign partners at the best efficiency, including remote booths pavilions, online business-to-business (B2B) at booths; virtual edition of Vietnam Expo on Decobiz digital platform that will add more effects to the event.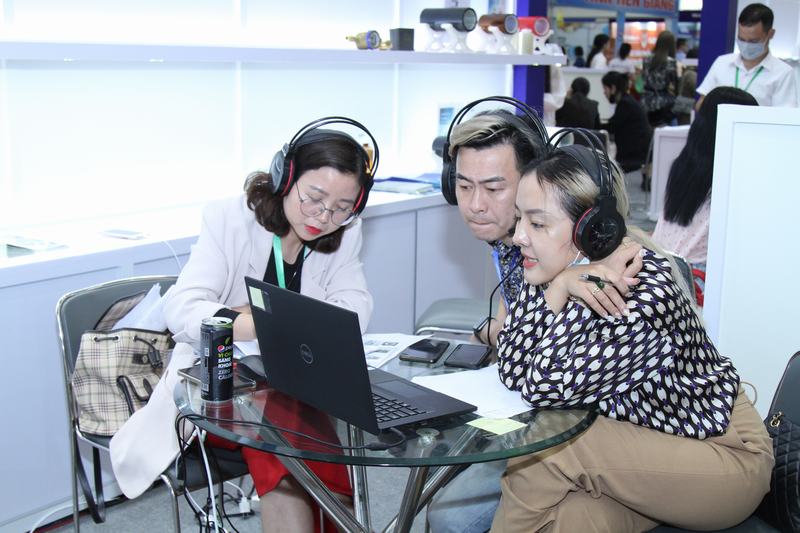 Guest of Honor Country and Special Guest Country
Vietnam Expo 2022 gave a special welcome to representation of Korea as the Guest of Honor Country and its significance is to deliver potential business opportunities in the sense of shared prosperity under the trade promotion and partnerships between Vietnam and Korea's enterprises. In the circumstance, the Korean pavilions was outstanding and a highlight of 75 businesses in the 300 square meter display which concentrated on their potentials such as models, innovations and environment friendliness in food, canned drinks, beauty products and home electric appliances.
Korean Trade Promotion and Investment in Hanoi (KOTRA) has consecutively participated in 23 years in a series of connecting investments, trade between Korea – Vietnam and East Asian countries in which included online and offline business matching at Vietnam Expo.
2022 marked the milestones of 30th anniversary of diplomatic ties between Vietnam and Korea (1992 – 2022) that was a motivation for bilateral relationship promotion in line with the common pathway of the both sides to raise the relationship framework to the comprehensive cooperation partnership strategy.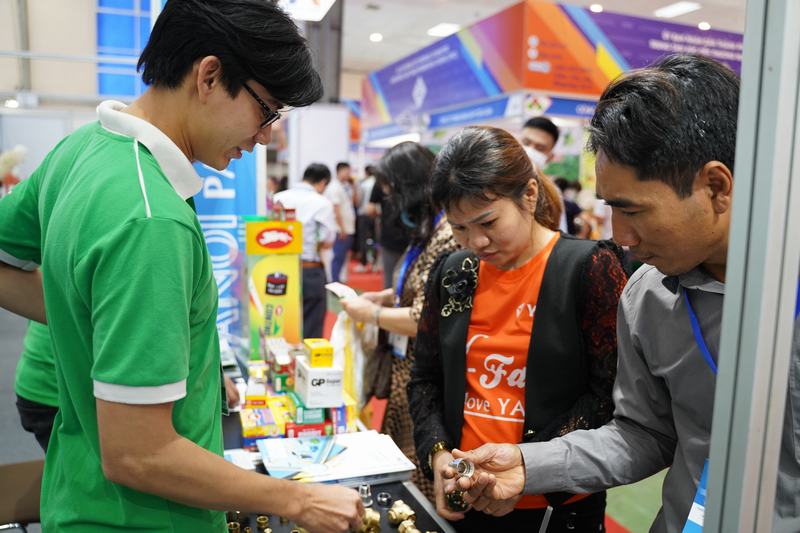 Belarus Republic participated and becam Special Guest Country at Vietnam Expo which was officially mentioned in a meeting between Vice Foreign Affairs Minister of Belarus and the head of Trade Promotion Department in January 14th 2022 in which the two parties agreed to tap preferences of the FTA VN-EAEU with an attempt to strengthen trade issues of the two countries.
The pavilions of Belarus with participating scale of 276 modern – designed square meters for greeting visitors and representing potential exports of Belarus such as Oil and Gas; Machines; Research and Development; Medical Supplies; Food and Beverage.
The Belarusian pavilion organizers include Belarusian Chamber of Commerce & Industry; Ministry of Education of Belarus; Ministry of Agriculture and Food; State Committee on Science & Industry; Belarusian National Academy of Sciences.
SPOTLIGHT PAVILIONS
Digital Technology and E-commerce booths 
The theme "Step together in Digitized world" continues to widespread the message of digital transformation that was kicked off two years ago by the local government as a breakthrough in 2022. The theme Digital technology & E-commerce is introduced as one of the four key industries that attracted a large number of digital businesses; and this year there will be participation of 30 digital solution providers in manufacturing, operation and management.
E-commerce has been the most efficient driver to unlock markets of exporters, the workshop "Local Pavilion – Matching Supplies and Demands on Alibaba.com" was held in April 14th 2022 for local businesses who have been successful in Alibaba.com to share experience, approaches and comparative advantages of local products in the world markets.
Hanoi City's Pavilion 
Centrally designed and installed at the exhibition, Hanoi City's Pavilion was organized by Hanoi Trade, Investment and Tourism Promotion to present a specific and innovative display in the area of 144 square meters with products and catalogues introducing competitive industries of the local such as information technology, industry, exports and series of investment policy introduction of the city.
Production, growth linkages and investment attraction
For the first time, the interconnected industries display area, aimed at foreign buyers, FDI businesses and local export companies, combined 30 complementary industries companies and those that stand side by side with automation and digital solutions providers in production and manufacturing; and industrial park pavilions such as VSPI Nghệ an, VSIP Hải Phòng, VSIP Bắc Ninh). "Invest in Vietnam" pavilion is another central area that focuses on investment and development of important industries in compliance with local development goals (Bình Định, Vĩnh Long, Bắc Ninh, Hải Phòng, Bến Tre, Đồng Tháp, An Giang, Nghệ an, An Phát Industrial Park, Nghi Sơn Economic Zone).
"Local Logistics Services" was a spotlight at Vietnam Expo that is expected by the Organizer to deliver more efficient benefits to local and foreign business communities which are looking for sustainable production models and international investment encouragement. The interconnected industries area was created by the innovative idea of Trade Promotion Department (Vietrade), Municipal and provincial trade promotion centers and Industries Associations (Logistics, Supporting Industries, IT and Software) believed to offer efficiencies to multi sectoral businesses and was scaled up in subsequent events.
The national booth of Indonesian Ambassador to Vietnam with participation of 12 companies introduced products such as cement, beverage & food, particularly the pilot training school MITRA AVIASI PERKASA (MAP)